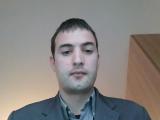 Davide Tallini
Davide Tallini received the Laurea degree in Telecommunication Engineering from "Sapienza" University of Rome in February 2007.
His scientific interests during the university were focused on electromagnetic theory and applications in a specific topic: scanning antennas and arrays.
During his master thesis he has collaborated with SELEX SISTEMI INTEGRATI in Rome in the design and optimization of a planar phased array for radar applications.
A related publication won the best student award at the EUCAP 2007 held in Edinburgh.
At the end of 2007 he joined CST AG as Application Engineer where he is currently employed.
His main duties are the customer support in Italy & Turkey and the contribution to new projects developments inside CST related to the MW & RF market.